Hellyer Reviews & Testimonials
Family owned and operated, Hellyer Transmission & Automotive aims at taking every step possible to insure customer satisfaction. The Hellyer family has been in the transmission & automotive business since 1989.
We value your feedback.
Should you ever have an issue or concern about our services, we ask you to first call us at: 281-479-1715 or contact us; So we may discuss the potential issue or concern. We want you to be a happy and satisfied customer.
Review us on

A Happy Customer Emailed Us (6/4/21)
I wanted to praise Hellyer for their excellent professional service. Going back several years i have take 3 autos to them and have received excellent service every time. Twice they reported back that there was nothing wrong and no repairs were needed. Another time a car actually had some work on warranty fail and it was covered by the warranty with out an fuss or issue. It is so nice that here are local shops demonstrating such integrity still around. Kudo's to Hellyer Transmission. Keep up the good work and i always pass your name along to anyone i know looking for transmission work.
James L.
A Happy Customer Emailed Us (8/29/2020)

Brian,
It has been a couple of weeks now and so far so good.
My Hellyer experience has been terrific for almost twenty years. This latest engine repair was handled in a very professional manner. Compared to other repair shops that I will not name, my options were laid out to me clearly. This was a big job finding the engine for an old truck like mine. Both you and Mark were so courteous and helpful in explaining what needed to be done.
Brian please let Mark, his wife and the whole Hellyer gang know they have a loyal customer that appreciates there service and hard work.
Thank you and God Bless you all.
Jeff
Hellyer on other Review Sites:
Some Yelp Reviews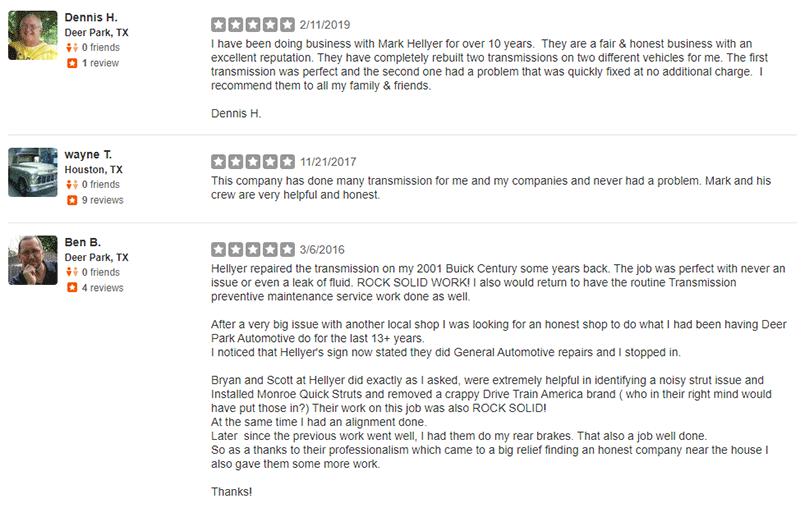 Mission Statement
The mission of HELLYER TRANSMISSION AND AUTOMOTIVE is to provide top quality services and repairs to customers who are willing to pay a fair price for excellence. We will always treat our customers with the respect they deserve and endeavor to save them money by fixing their vehicles properly the first time. We will never sell them anything they don't need or allow them to talk us into performing a lesser repair that we know will not be the best possible benefit to them. We will always make the business profitable so that we can provide a good life for our employees, our suppliers, our families and ourselves.